Biography
I am a CNRS research director and group leader at the Institut de recherche en infectiologie de Montpellier, France (IRIM). I am also heading the CEMIPAI, the CNRS-Montpellier University platform providing BSL3 services, including BSL3 super-resolution microscopies, for cell biology researches on class 3 pathogens: viruses and bacterias. My research focus is dedicated to the comprehension of molecular and cellular assembly mechanisms of RNA enveloped viruses, especially HIV-1, Influenza A virus, and recently the pandemic SARS-CoV2, and also virus-like particles and extracellular vesicles formation and production. These fundamental researches can lead to future therapeutic medicine based on delivery bio-nano-particle tools.
I started my research life completing a Ph.D. in Molecular and Cellular Biology at the Pierre et Marie Curie University Paris 6 in 1996. I studied in vitro the dimerization of HIV-1 RNA transcripts in order to understand the nature of RNA-RNA and RNA-NC interactions leading to the formation of these dimers. Then, I moved on at NIH in Maryland USA to study Retroviruses and the role of RNA in viral particle formation. Back to France, in Lyon in 2003 then Montpellier in 2012, I persue my researches on the mechanisms of retrovirus assembly and on the role of cellular cofactors and lipids in RNA enveloped virus assembly and budding, with a particular interest in nanoscopies to study these events.
Research topics

Research Research of RNA enveloped viruses and host cell co-factors (lipids, membrane proteins and cortical actine cofactors) involved in virus egress and single molecule fluorescent based microscopy methods and Bio-AFM for the detection of viruses and protein targets during infectious diseases.

Fields of interest

Molecular and cellular assembly mechanisms of RNA enveloped viruses; virus-like particles and extracellular vesicles; HIV-1, Influenza A, SARS-CoV2 virus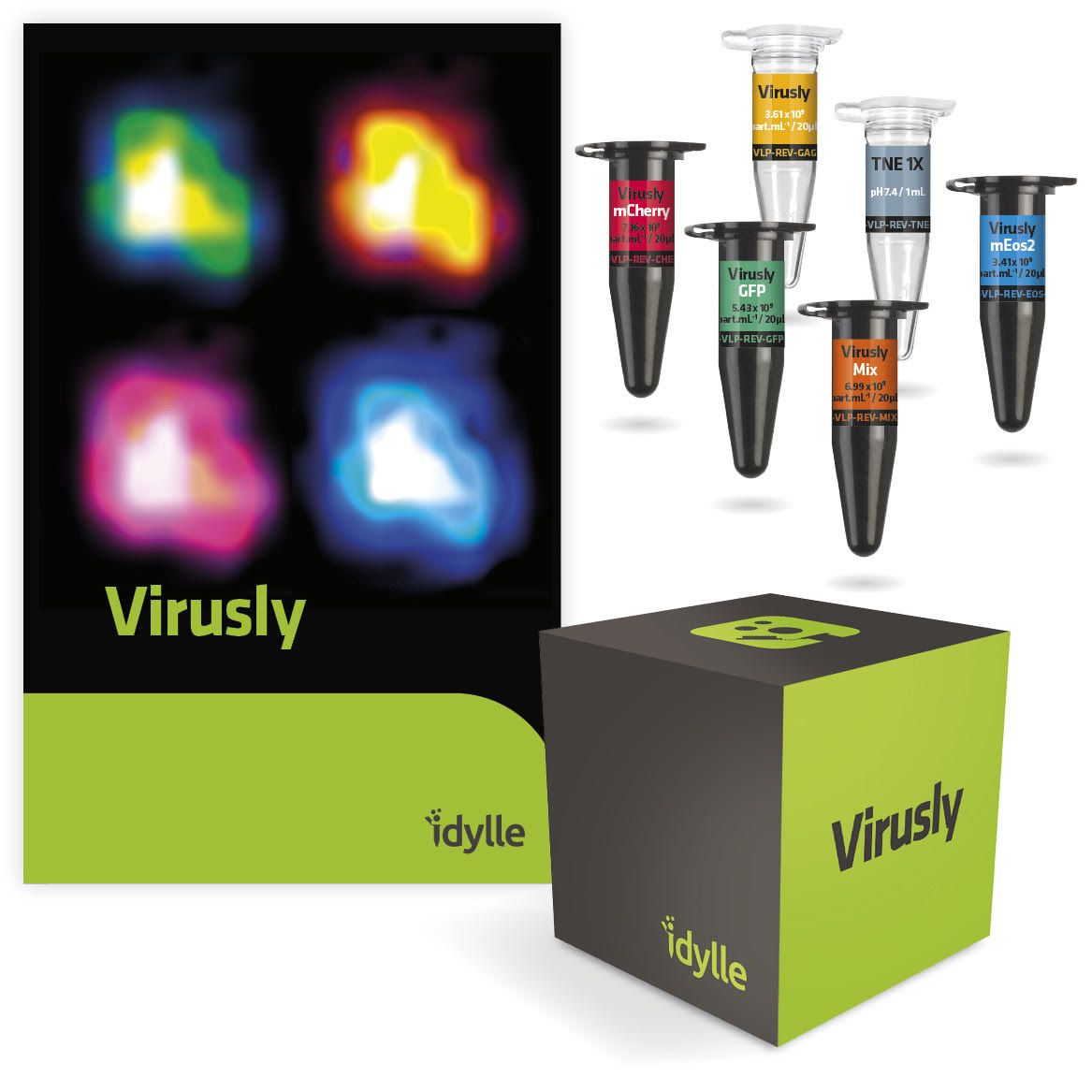 Virusly
Bio-Nanoparticles that look like viruses but are not viruses!
Prepared with HIV-Gag proteins, they allow you to calibrate or check your microscope easily and safely out of the BSL3.
Several publications
Favard C, Chojnacki J, Merida P, Yandrapalli N, Mak J, Eggeling C, Muriaux D. HIV-1 Gag specifically restricts PI(4,5)P2 and cholesterol mobility in living cells creating a nanodomain platform for virus assembly. Sci Adv. 2019 Oct 2;5(10):eaaw8651. doi: 10.1126/sciadv.aaw8651. PMID: 31616784; PMCID:PMC6774721.
Floderer C, Masson JB, Boilley E, Georgeault S, Merida P, El Beheiry M, Dahan M, Roingeard P, Sibarita JB, Favard C, Muriaux D. Single molecule localisation microscopy reveals how HIV-1 Gag proteins sense membrane virus assembly sites in living host CD4 T cells. Sci Rep. 2018 Nov 2;8(1):16283. doi:10.1038/s41598-018-34536-y. Erratum in: Sci Rep. 2018 Nov 22;8(1):17426. PMID:30389967; PMCID: PMC6214999.
El Meshri SE, Boutant E, Mouhand A, Thomas A, Larue V, Richert L, Vivet-Boudou V, Mély Y, Tisné C, Muriaux D, de Rocquigny H. The NC domain of HIV-1 Gag contributes to the interaction of Gag with TSG101. Biochim Biophys Acta Gen Subj. 2018 Jun;1862(6):1421-1431. doi: 10.1016/j.bbagen.2018.03.020. Epub 2018 Mar 20. PMID: 29571744.
Kerviel A, Dash S, Moncorgé O, Panthu B, Prchal J, Décimo D, Ohlmann T, Lina B, Favard C, Decroly E, Ottmann M, Roingeard P, Muriaux D. Involvement of an Arginine Triplet in M1 Matrix Protein Interaction with Membranes and in M1 Recruitment into Virus-Like Particles of the Influenza A(H1N1)pdm09 Virus. PLoS One. 2016 Nov 4;11(11):e0165421. doi: 10.1371/journal.pone.0165421. PMID:27814373; PMCID: PMC5096668.

Thomas A, Mariani-Floderer C, López-Huertas MR, Gros N, Hamard-Péron E, Favard C, Ohlmann T, Alcamí J, Muriaux D. Involvement of the Rac1-IRSp53-Wave2-Arp2/3 Signaling Pathway in HIV-1 Gag Particle Release in CD4 T Cells. J Virol. 2015 Aug;89(16):8162-81. doi: 10.1128/JVI.00469-15. Epub 2015 May 27. PMID: 26018170; PMCID: PMC4524266.