A chitosan-coated glass coverslip allowing the soft adhesion of E. Coli bacteria on its surface. It allows real-time monitoring of the destiny of bacteria in conditions that researchers can choose and tune at will!

What is it for? Use it if you want to image your E. Coli bacteria both still and alive.
Published in mBio
#bacteria #surface #microfluidics #imaging #SingleCell
Note: if you want to know more about Chitosan-coating in general,
click here
.
3 features we valued when we discovered the technology
Long lasting: a bench-stable surface coated with chitosan, the most efficient pathway to immobilize your bacteria.
Compatible: the dimensions of the coverslips will be tuned to fit perfectly with the most common sticky slides on the market. The slides can be placed on the chitosan-coated coverslips to run multiple assays and live bacteria imaging.
Reliable: the technology has been tested with a variety of E. Coli bacteria and we're currently developing a protocol to help you thrive with Chitozen.
The publication

If you want to see what you can do with chitosan-coated coverslips, you can have a look at this study published by the team of developers in 2019. They've managed to use chitosan-coated coverslips to promote the growth of cells without any deleterious effect on their physiology, allowing them to measure the antibiotic susceptibiliy of a diversity of clinical strains with an excellent accuracy in a very short period of time. Read all about it here: mBio, 2019
Status D Day: We're releasing Chitozen!!!

At Idylle, when we onboard a new technology, it comes with a great deal of interviews of researchers, reviewing with scientists who used it already to get feedbacks on the broadest range of experimental conditions, transfer of know-how and process development. Here's what we've been up to so far in the transfer of chitosan-coated coverslips to make them available for other researchers:
November, 2021 - Chitozen is ready to be tested by users!!! So proud!


Sep. 20, 2021 - Assembling the product and fine tuning the packaging. We're testing everything to deliver you the perfect tool. Get ready!

July 28, 2021 - Blueprints and models ... We now have our Chitozen kit designed!

June 10, 2021 - We're adding the final touch to the typical protocol of Chitozen. This document will give you every tips and hints to use this tool.

May 5, 2021 - We have a cover image! The research team, our art director and us are pretty proud of the result. Preview it below in the picture gallery.

April 1, 2021 - Esther scrutinizes the experiments and shoots tons of videos and pictures to prepare the Chitozen protocol. A true anthropologic attitude!

Mar. 31, 2021 - Nicolas is back in Marseille! Process development with Olivier, Guillaume and Laurent. The reviewing batch is cooking!

Jan. 20, 2021 - We're testing the first prototypes we've created in Tâm's lab. With their help, we're setting our mind on a protocol for future users, but there's one sure thing: the adhesion of bacteria is astonishing!


Jan. 18-19, 2021 - Nicolas and Aurélien are visiting with Olivier and his team in Marseille, working together on developing a process to produce Chitozen rapidly, efficiently and with industrial quality standards.

Jan. 8, 2021 - We chose a name for the chitosan-coated coverslips we'll produce: Chitozen

Dec. 4, 2020 - Big meeting with Tâm Mignot, from the Laboratoire de chimie bactérienne in Marseille, Olivier Theodoly from the Adhesion and Inflammation Lab in Marseille, Guillaume Sudre and Laurent David from the Lab of Engineering of Polymer Materials in Lyon. We all agree to start working together to release their technology, hurrah!

Q3 2020 - We're digging in the literature and meeting with the developers to build a solid project around chitosan-coated surfaces.

Q1 2020 - We've known Tam and Olivier for a long time and they shared with us something they have recently developed. We sat with their institutions to see how we could get involved in the process.
Picture gallery Life in the labs with Idylle
Chitosan-coating: But what is chitosan?
A bit of glycochemistry...

Chitosan is a polysacharide composed of randomly distributed D-glucosamine and N-acetyl-D-glucosamine. It can be synthesized from chitin extracted from carapaces.
It can almost link the capsule of bacteria, immobilizing them via a variety of weak interactions. The chitosan we use to coat the coverslips has a well-controlled degree of acetylation. The molecular stucture and thickness of the coating is optimal for the adhesion of various bacteria (Escherichia coli, Klebsiella pneumoniae...)
The preparation of our coverslips allows an homegeneous distribution of the chitosan on the surface and maximisation of the surface of use.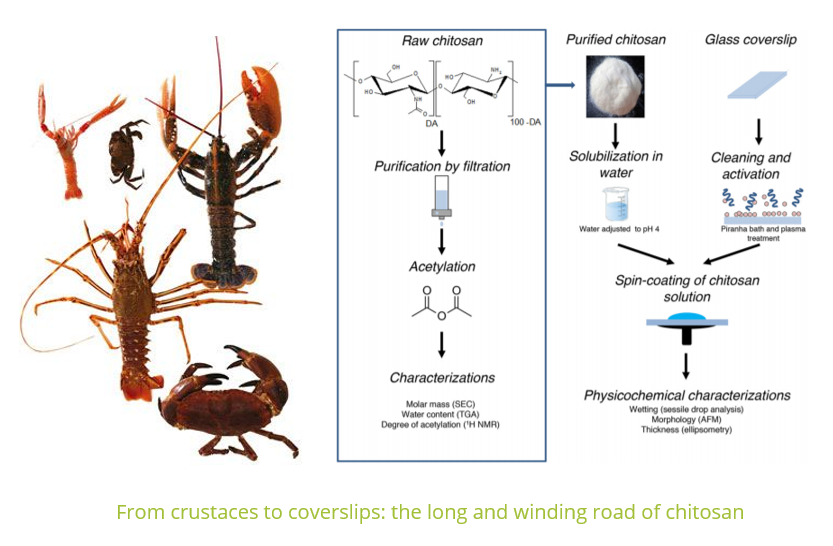 More life science tools to try

You want the latest on the life science tools the community shares, tests and adopts?